Heeeeeello! Oh my gosh! I have sooo neglected my blog! Eeek! So sorry, my friends!
I am back today with a coupon...save $2 on any purchase of $8 or more! Good on nearly everything in my store! Enjoy :)
Coupon code:
take2off8
Expires: August 10
1 use per customer!
I have a couple of new goodies in the shoppe today as well. I have lots of exciting news too! I can't reveal it all now...but, maybe a sneak peek? ;) So, first of all, I have been making blinkies and banners! I have been having soooo much fun making them, and I really enjoy it! I have a few to show you as examples, and while I'm not starting and "official" business for them yet, (keep your eyes peeled to my shoppe!) if you are looking for something in particular, and you like my style...feel free to shoot me an email and I can give you a quote! :)
I will come back tomorrow to post a sneak peek of my new kit coming on Saturday to a very, very cool shoppe! :)
Soooo, here are a few examples: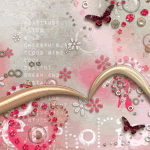 And, here are my new goodies in shoppe today!
See you soon! And, I'll really try to not neglect you from now on ;)
Hugs!!